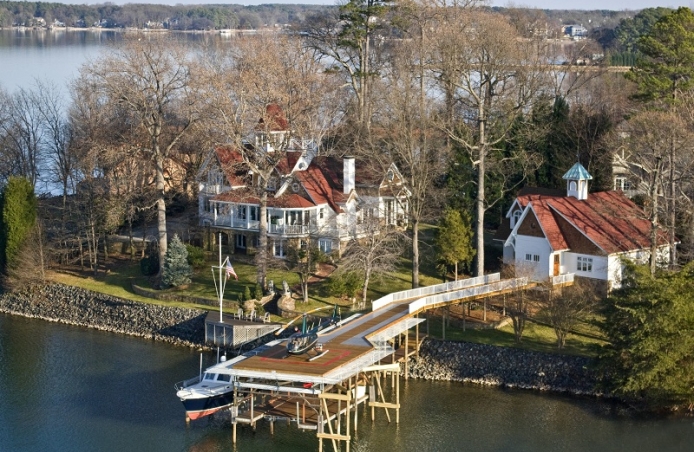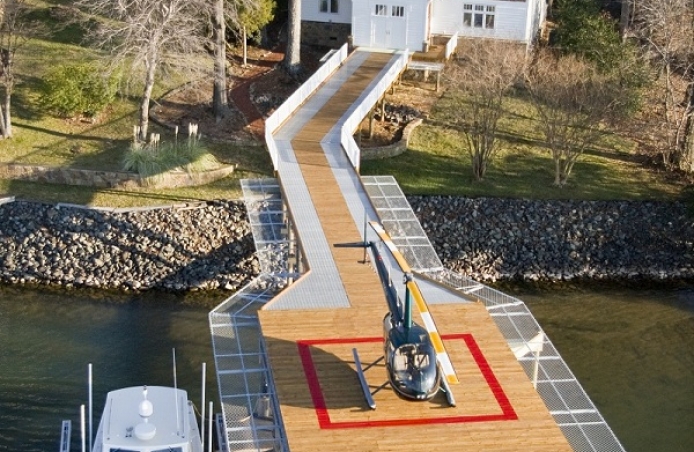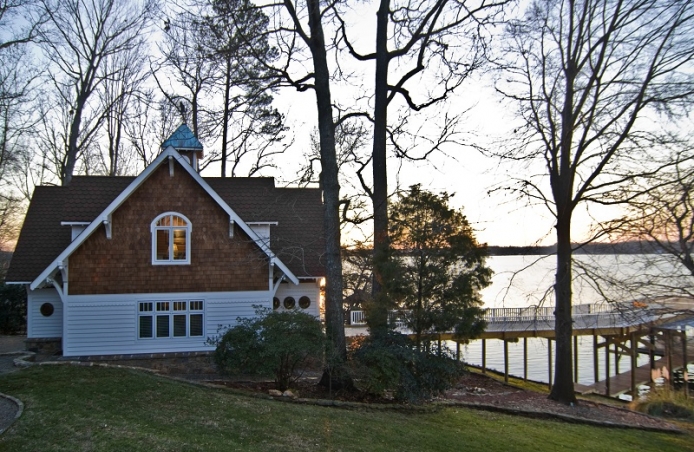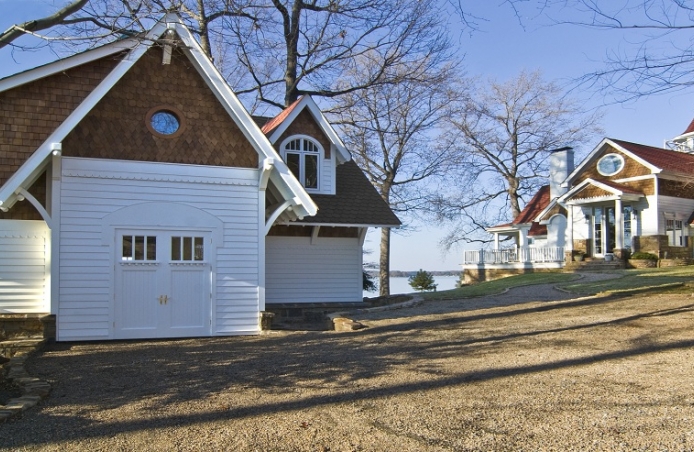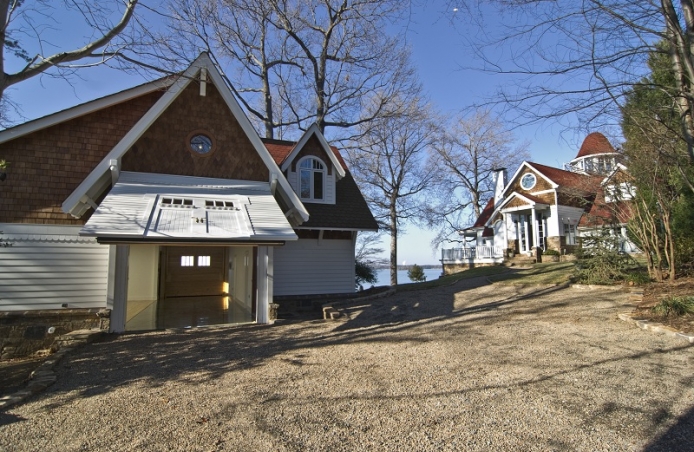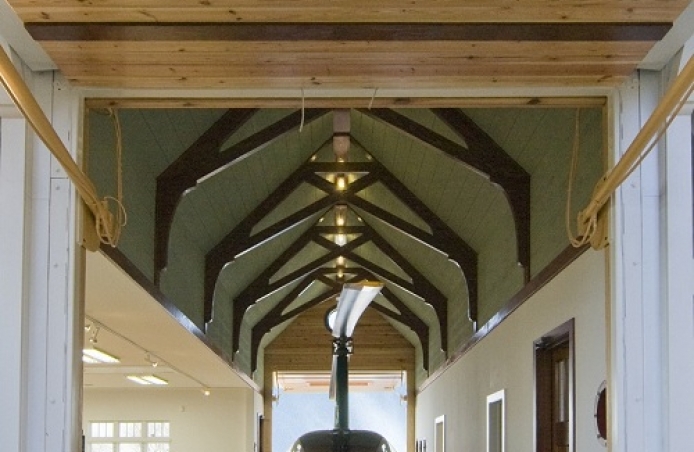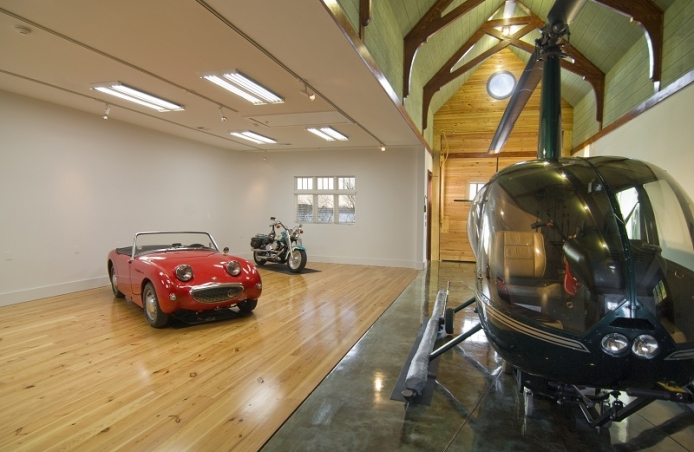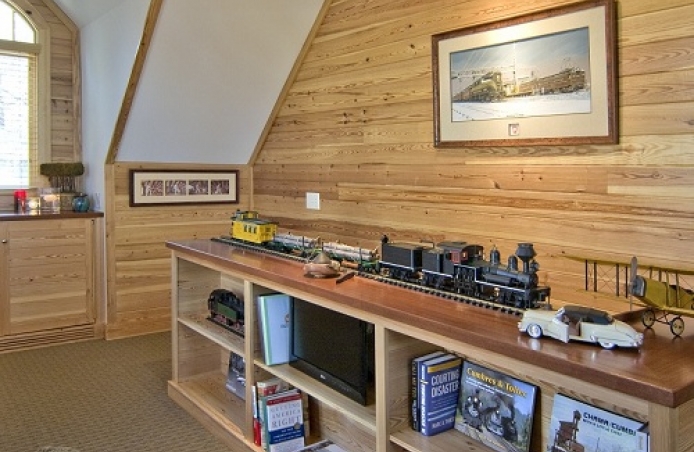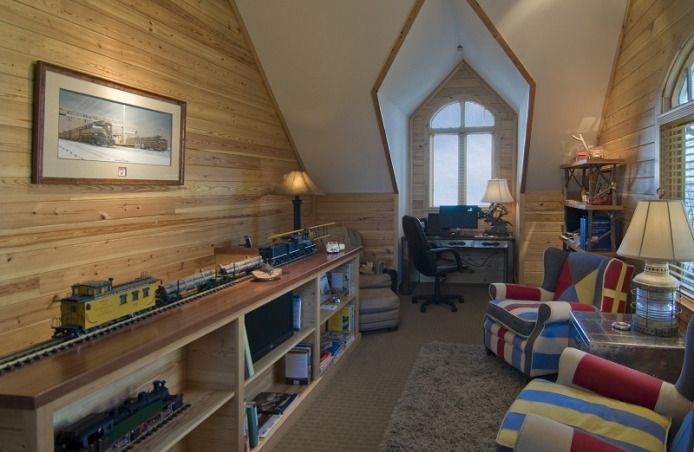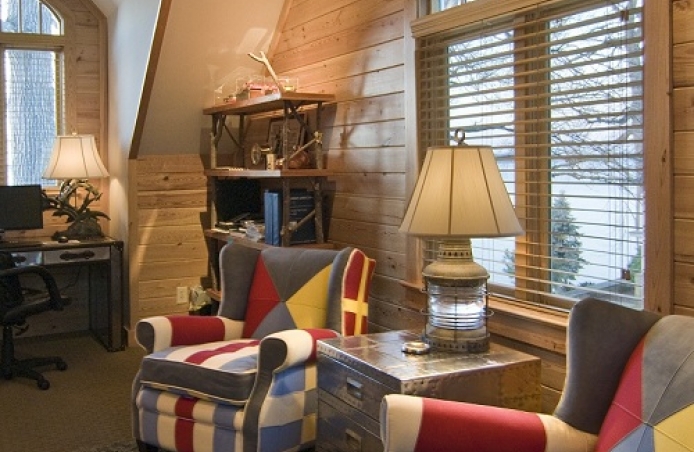 National Award Winning Helicopter Project
DIVISIONS INVOLVED: Residential , Commercial , Roofing, Siding, & Windows
AWARDS & ACCREDITATIONS: National Contractor of the Year Award, Master Design Gold Award, Janus Gold Award, Chrysalis National and Best in the Southeast Award Winner, Qualified Remodeler Gold Award, NARI National, Regional, Local Contractor of the Year Award, Home Builders Association National, Regional, and Local Gold Award.
This renovation and new construction was a one of kind project, the first and only in the state of North Carolina. The boat dock roof was remodeled and converted to a landing pad with a runway that led to the carriage house helicopter hanger. Unique custom made up swing doors were built and disguised into the facade of the building. The train room, workshop, vehicle showroom, upstairs office, lounge, and wet bar utilized Metropolitan's custom wood working shop, were we made heart of pine cabinets, beams, and custom mahogany entry doors, as well as other features. The project was awarded a Janus Award, one of only three given in the United States, for sweeping the National Chrysalis Award, the National Master Design Builder Award, and the National Qualified Remodeler Award. Also awarded was the NARI National Contractor of the Year Award and the Home Builders Association National Award.
CLICK TO SEE MORE...
CURRENT Residential PROJECTS
| | | | |
| --- | --- | --- | --- |
| 01/01 | Myers Park Addition with Screened Porch and Patio Area - Outdoor Living | | View |
| 01/01 | Southpark Total Home Renovation - Kitchen, Master Bathroom, and Outdoor Living | | View |
| 01/01 | Custom Exterior Doors | | View |
| 01/01 | Expertise. Knowledge. Engineering. Design. Ability. Craftsmanship. | | View |
| 01/01 | Stunning Deck and Porch Addition | | View |
| 01/01 | Dilworth Award Winning Historical and Insurance Restoration Project | | View |
| 01/01 | National Master Builder Award-Winning Attic to Bath Conversion | | View |
| 01/01 | NC Remodeler of the Year Design Build Projects | | View |
| 01/01 | Myers Park Garage and Poolhouse - Outdoor Living | | View |
| 01/01 | Plaza Midwood Screened-In Porch with Stone Fireplace - Outdoor Living | | View |
ABOUT Us
Metropolitan is North Carolina's Most Nationally Decorated and Recognized Builder/Remodeler, from full house remodels, custom home building and simple handyman chores, Metropolitan Builders can tackle any job. Through innovation and growth, Metropolitan builders provide clients a streamlined, efficient building experience.
With a one-of-a-kind custom showroom in historic Southend, clients can meet with Metropolitan's design & building team to brainstorm, make revisions, or develop dream homes or additions welcoming collaborations with architects and interior designers.
Learn More About Us
"Metropolitan Builders finished everything they promised swiftly and painlessly. They were... "
Read More Testimonials
Call Us TODAY!
FREE Estimates
704.372.3369
EMAIL Us
Have Questions? Need an Estimate? Fill out the form below to email us.